Top 3 Reasons Why Most Small Businesses Fail
Category: Franchise News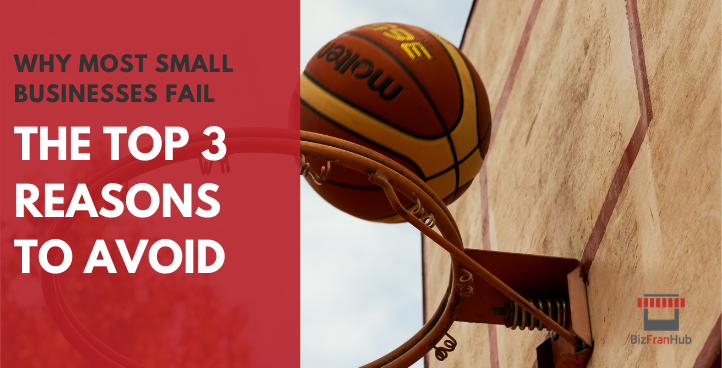 Starting your own business from scratch may be the ultimate goal for many people, however, the majority of small businesses fail within the first five years. This is due to the fact that owning and operating a small business on your own is incredibly difficult. There is a vast array of pieces to the puzzle. You need more than a brilliant idea and the courage to go about it yourself in order to succeed in a highly competitive marketplace. The following information will provide you with the top three reasons why most small businesses fail.
Reason 1: Inexperienced Leadership
Many entrepreneurs lack the skills that are necessary to manage their business properly. They also fail to lead their employees in a manner in which people will truly want to follow them. Being your own boss and working for yourself may sound like a great idea, but it is a lot more difficult than most people think. You will absolutely struggle as a business owner if you do not have a high level of experience supervising employees, and the wisdom that it takes to make sound management decisions. You will also need a vast amount of knowledge within your industry in order to lead your organization down the path of success. While some people figure it out quickly, many others do not. This can lead to the ultimate failure of the business, especially if you do not have a team of people to turn to for help.
The Solution Have you ever considered purchasing a franchise? Franchises provide entrepreneurs with the benefits of working for yourself without the need of going it all alone. Franchise owners, otherwise known as franchisees, are provided with a great deal of help and assistance. The strategic planning is performed by the corporate entity, also known as the Franchisor, which takes those management duties completely off of your plate. You will be presented with a proven step-by-step formula for managing your business and leading your employees. You will also be provided with the necessary training needed to successfully operate a business.
Reason 2: Poor Financial Planning
Most aspiring entrepreneurs are uncertain of exactly how much money is required in order to start a business. You will also need working capital to keep the business afloat until it begins to generate revenue, let alone profit. One of the reasons that many small businesses fail is due to poor financial planning, which oftentimes leads to a lack of capital. It can be incredibly difficult to predict exactly how much money you will need, especially if you do not have a team of people to turn to for the answers.
The Solution Purchasing a franchise will help you in this area as well. There is a wide range of franchises available in every price range. A franchise consultant will be able to provide you with an accurate picture of exactly how much money it will cost to start your business. They will also know how much money you will need to spend on ongoing expenses and can provide you with a timeframe of how long it will take to start turning a profit. This valuable information will help you plan properly from a financial standpoint and greatly increase the odds of you staying in business for the long-term.
Reason 3: Poor Marketing Strategies
Marketing is the key to selling your products or services. It is next to impossible to attract potential customers/clients to your business without a comprehensive marketing plan in place. However, a plethora of entrepreneurs lack the knowledge and/or skill set that is required to market their business in an effective manner. The majority of small business owners do not have the luxury of hiring a marketing staff member or paying for the services of a professional marketing firm. Many small businesses fail due to poor marketing strategies.
The Solution When you purchase a franchise you will receive support for creating a successful marketing strategy. Including insight on the most effective marketing strategies that current franchise owners are using. Most of the marketing responsibilities are handled by the corporate entity for national advertising and local strategies. They will either have marketing experts on staff or hire a professional marketing agency. In addition, you will receive guidance from the franchisor for effective marketing to grow your business. By talking to one of our trusted experts at BizFranHub, we'll be able to look at your situation from all angles and then factor in your experience, education, financial situation and lifestyle goals to a decision that syncs up with your franchise selection.
At BizFranHub, we have a wealth of experienced accountants and financial advisors we can connect you with early on and as your franchise decision evolves. Let's have the conversation sooner rather than later through a free consultation at 312.436.2748. Or send us an email: info@bizfranhub.com.