Franchise Trends for 2019
Category: Franchise News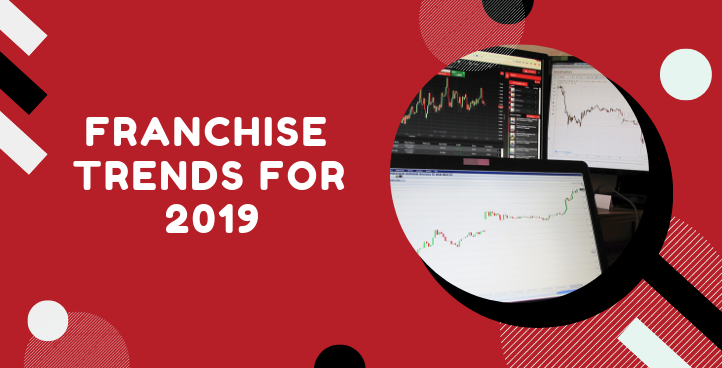 Like anything else, franchises go through trends where certain products and services gain and lose popularity over time. Of course, just because something is popular, doesn't mean it will be right for your particular situation, but if you can find something you're passionate about that also meets a certain demand in the current economy, you'll be more likely to meet with success. We've come up with a list of four hot franchise trends for 2019 that don't show any signs of cooling down.
Children's Services
We currently have 74 million children in the U.S. and this number is expected to grow to more than 80 million by the year 2030. Combined with the fact that more families have two working parents, this means the need for daycare has been rising drastically in recent years, but it's about more than daycare. Entertainment and education services for children are also on the rise, and parents are always willing to pay up when it comes to making sure their kids get the best. The market is ripe for anyone who wants to take advantage of it and loves working with kids.
Senior Care
Baby boomers make up one of the most significant portions of our population and they are now all over 50 years old. There are 46 million Americans who are currently 65 or older and that number is expected to more than double to 98 million by the year 2060, leaving plenty of room in the senior care market as baby boomers continue to age. This will lead to a drastic rise in the need for assisted living, nursing homes, and in-home care. An increased need for specialized care (such as memory care) will also be needed as the number of Americans with Alzheimer's is expected to reach 14 million (almost triple the current number) by the year 2050. So if you've ever considered a career helping senior citizens, there's never been a better time than the present.
Health and Fitness
We all start to think healthy thoughts around the new year, but it turns out it's not just in January that people are willing to pay to get healthy. Almost 20% of Americans currently have a gym membership and, according to the IHRSA (International Health, Racquet & Sportsclub Association), the health and fitness industry is now a $30 billion industry in the U.S. alone. It's been growing by about 3-4% for the last ten years and it doesn't look like it's going to slow down any time soon, so if you have a talent for motivating people to get fit and healthy, there's already a big market for your services.
Amazon-Proof Businesses
There's no denying that Amazon and the rise of online shopping have had a huge impact on the retail industry. You don't have to go far to see retail spaces with "For Lease" signs on the windows, and strip malls have been shrinking to almost nothing. One representative of Douglas Elliman, a real estate company, estimates that 20% of Manhattan's retail space is empty. So where does that leave small businesses that want to serve their communities? One obvious answer is restaurants. For example, the "fast casual" restaurants that offer quick service with quality ingredients, such as Chipotle, have grown by 105% in the past decade. Another option is to focus on the customer experience. The brick-and-mortar stores that have survived the Digital Age (so far) have focused on creating spaces where their customers want to hang out. They do crafts, have competitions and giveaways, host parties, etc. They give the customer what they want, but they also give them what they didn't know they wanted, so if you're thinking of opening your own brick-and-mortar store, think about all the ways you could surprise your customers.
Conclusion Whether you want to work with the young or the old, the sick or the super healthy, there's a franchise option for you. Choosing a franchise is all about combining your passion and your unique skill set with what the market needs right now, so if a franchise is something you've been considering, reach out now to speak with a consultant about the right option for you.