Don't Make These 5 Mistakes Selling Your Business
Category: News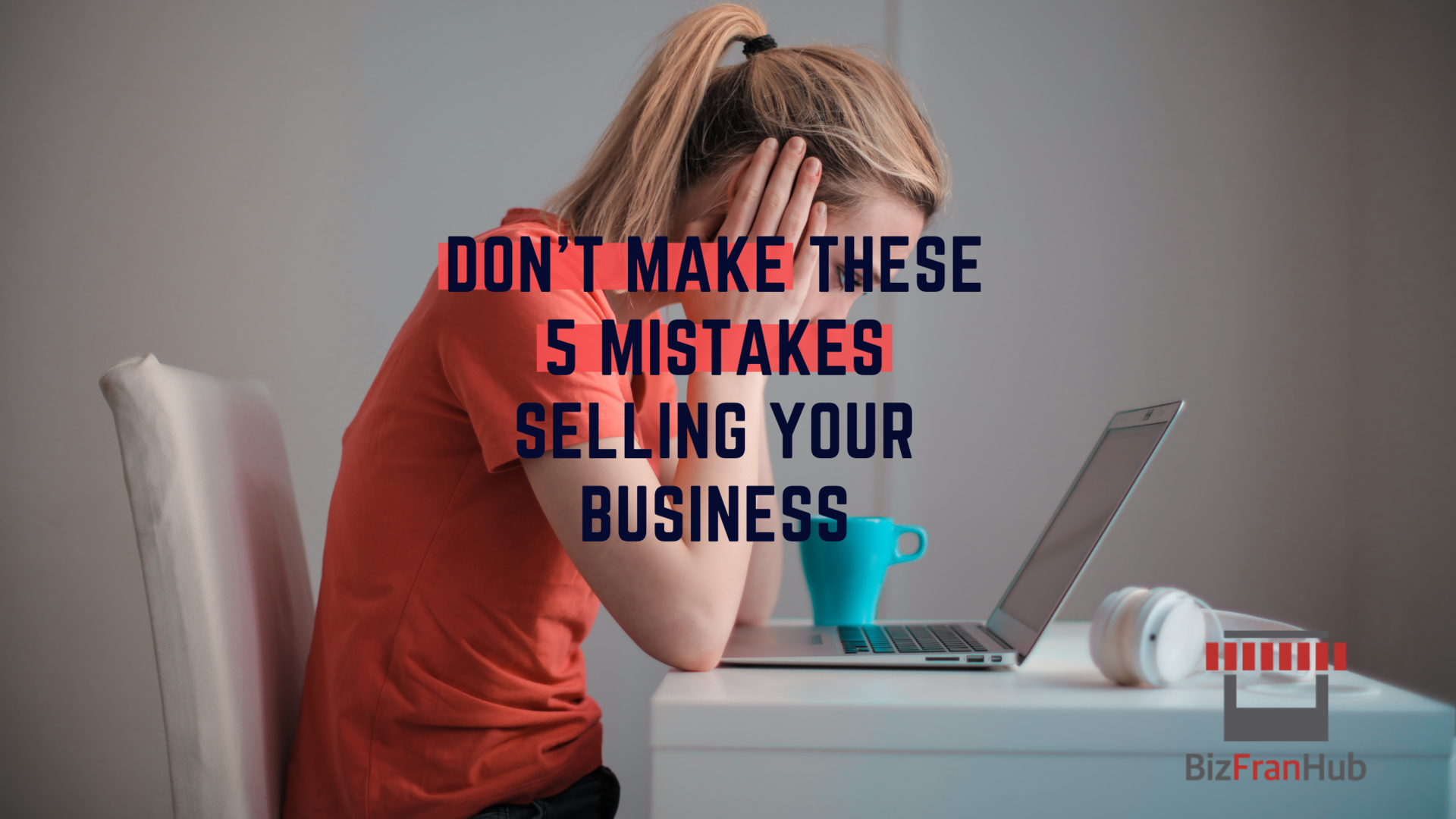 More and more small business owners are telling themselves "it's best to sell my business on my own." We understand the need to maximize your profits when you're selling your business. Make sure you don't make these 5 mistakes selling your business because we want you to get a great ROI. You have put a lot of hard work into your business and this sale will determine your ROI. Many small business owners make these mistakes on a daily basis when selling their business, so they lose thousands. As entrepreneurs, we understand the dream of owning your own business and making money every step of the way. Our goal here is to help you do that. As business advisors and entrepreneurs, we have built and sold many small businesses. Now, as a franchise consultant team, we help other small business owners buy, sell, and franchise their businesses. (Why use a franchise consultant?) Our hope is that these tips can help you avoid making mistakes in selling your business.
Most Common Mistakes Selling Your Business
1) Waiting too long and trying to sell without a plan
Many business owners lose a lot of money because they miss their window of opportunity. Selling a small business takes an average of six to nine months, but it can take up to two to four years. Therefore, it pays to have an exit strategy. Proper planning prepares you for profits. Make sure to keep accurate and up-to-date records and your business listing info handy at all times. The best time to sell a business is when it is making money. You should be prepared to sell from the minute you open your business. You never know, when someone might walk into your business and make a serious offer. The sellers are that make money selling their business are very rarely the person that waited too long to plan. Buyers will know if you plan your exit strategy and nothing inspires confidence or kills a deal quicker than presentation.
2) Having The Wrong Person Handle The Sales Process
Nothing costs a business owner more money than having the wrong person represent their interest in the sales process. There is no question that you will need both a lawyer and an accountant to help you through the process. The lawyer writes up the contract to sell and the accountant crunches all the numbers. This is usually the most costly mistake selling your business that you can make. However, it's important that you find the right business advisor or franchise consultant to help you market and negotiate the sale of your business. The biggest mistake you can make selling your business is having the wrong person help you through the process. Many business owners lose a lot of money because they list their business for sale with the wrong person or online without doing their homework. The right listing agent will have experience and will charge their commission after your bottom line price. Call our team anytime for a free consultation at (312)436-2748.
3) Taking A Passive Role In The Sale Process
It is a mistake to rely on someone else to make the sale without your help. No one knows your business better than you do. No one will know more about your business than you do. It is also unlikely that anyone will be more motivated or passionate about selling your business. A good broker will generate leads and help negotiate, but you will be needed to answer the buyer's questions. You should be active in finding a buyer. A prospective buyer is going to be suspicious of why you're selling business. Therefore, it's important to combat those fears with solid answers directly from the seller.
4) Not pricing the business to sell
You don't want to price your business too high, because you won't get much interest. You don't want to price your business too low, because you will leave money on the table. It's very important to get more the one opinion on the asking price. It's also very important to have an accountant do a proper business valuation. The most common mistakes selling your business that people make revolve around the listing price. A good accountant will consider many different things when suggesting a listing price to sell your business. They will consider the industry, similar businesses, cash flow, economy, the marketplace, and more when pricing your business to sell. The big trick is setting your listing price is being realistic. Don't expect top dollar for a business that is losing money, or barely breaking even.
5) Accepting the wrong offer
It's not always wise to accept the first offer when selling your business. It's almost always better to turn down offers than accept an offer with little or no money down, or provide seller financing. It generally a good idea to make a clean break, so there is little hassle or risk. Many businesses struggle under new ownership for many different reasons, so there is always a risk with providing seller financing. The new owner may run the business into the ground. It usually is better to have one in the hand than two in the bush. Make sure you consider the new owner and the chances they succeed before you consider financing.
Our team can help you through the business sale process better than anyone. You don't have to make mistakes selling your business. We have the experience to help you avoid all these common mistakes selling your business. We also will create professional listing packages to properly market your business for sale. Our team will present your business for sale discreetly, but to millions of people through press releases and other online marketing efforts. No one will sell your business faster for more profit, because our commission is set above your bottom line sales price. Contact us for a free consultation anytime at (312)436-2748!