Considerations When Buying a Restaurant
Category: Buying a Business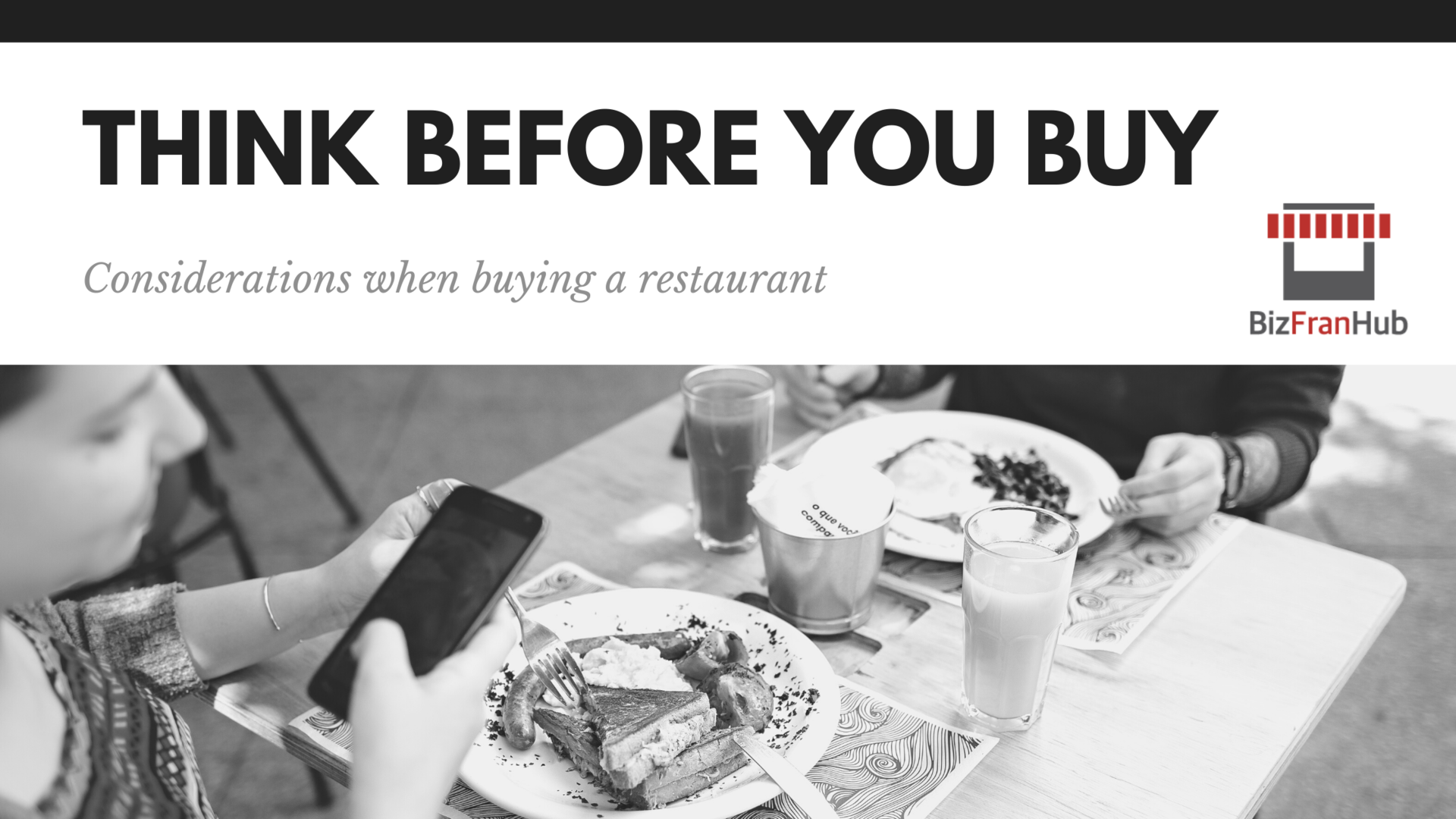 Many people who have thought of going into business, dream of owning a restaurant of their very own. Buying a restaurant can be a trying experience, because there is a lot that goes into it. It can also be a costly one, if you don't go about your due diligence correctly. Restaurants are a popular choice when considering starting a business, everyone needs to eat, people feel comfortable with the product, this is a business people feel they can create or manage and be successful. On the flip side from an ownership perspective it can be one of the most difficult businesses to manage, with high turnover and small profit margins owners can struggle to turn a large profit. It won't take long to notice that there are more restaurants for sale than any other type of franchise or business resale. As restaurants continue to dominate the world of small business startups, as consultants we look to identify what makes a restaurant concept successful. Before you consider buying a restaurant it is important to experience a day in the life of a restaurant owner/operator. If you have never held a position at a restaurant in your professional career, we highly recommend you consider gaining this additional experience before entering this industry.
The Pros and Cons of Buying an Existing Restaurant
Any existing restaurant for sale is going to have a story, so there will be historical information to review. The pros of buying a restaurant franchise, include brand name recognition, national advertising, and a proven business model. Before you decide to buy your favorite restaurant or local bar make sure you consider all the pros and cons to buying an existing business. It's also important to make sure you look at the pros and cons to buying a business objectively. Buying an existing restaurant or bar is like starting a new business, because there are several key factors to consider. Location, vendors, staff, local advertisers, customer base and more go into buying a good restaurant at a good price. The more you know about the pros and cons of the business the more you will be able to do a proper business valuation. In addition to these facts you will want to know the reason the seller listed the restaurant for sale. The reason for selling may tell you all you need to know about buying an existing business. Most sellers will not give you this the pros and cons, so you have to know what questions to ask. Hence, it always pays to have an experienced business broker on your side. Contact us for a free consultation at: (312) 436-2748.
Why are they listing the restaurant for sale?
There are a lot of reasons why people decide to sell their restaurant. The owner may have listed the business for sale, because of personal, health, or family problems. The owner could also want to sell due to lack of enjoyment, personal life or satisfaction running this particular business. The real reason often comes down to the business isn't as profitable as expected. A good business broker will help you figure out the truth behind why the business is for sale and what your chances of a successful transition. A good business broker or franchise consultant will help you determine which restaurant opportunities to pass up. The business broker is going to uncover the values and lifestyle of their client, matching this to the best restaurant opportunity available. Buying a restaurant is a huge decision with buyer representation you can gain a quality understanding of the business before you end up owning it. Having the right team to help you make sound business decisions can save you time, money, and lead to the ultimate business success.
Buying a restaurant with a lease?
Location is very important, both when you're opening a new franchise restaurant or buying an existing restaurant location. Success often is determined by securing the best location possible, generally, a restaurant will draw customers within a 5-mile area. The more people that see the restaurant the more people will eat at the restaurant. There are also challenges with buying an existing restaurant that has an awesome location. Building owners are aware of the importance of a great location and may charge higher lease rates. A highly unfavorable lease situation can dramatically affect the restaurant's bottom line. Location and lease issues are two of the biggest contributing success factors to consider when considering owning a restaurant business. A lot of business owners that are selling a restaurant have never sold a business before. You may be the first person that gets that far into the conversation because a lot of buyers don't ask the right questions. The seller should also want to know what the building owner thinks about signing a new lease or transferring a lease to a new owner. You'll save a lot of time by asking about the lease situation upfront. Buying a restaurant is a big investment, so you will want to be able to sign a lease that is at least 5 years. 3-year leases may also work depending on the sale price and your goals.
How do I determine value of a restaurant for sale?
The two most common ways to value a business are 'asset-based' or seller's discretionary cash flow. Knowing how the seller went about their business valuation will give you a lot info into why they listed their restaurant for sale at their asking price. It will also give you an idea of the cash flow and assets in the business because sellers tend to go with what builds their case. Owners tend to only use an asset-based method, when the business is unprofitable, closing or has other issues. Therefore, it makes sense to go right into estimating the fair market value for the fixtures, furniture, and equipment. That way you can make an offer based on your FF&E appraisal. Restaurants that are doing better tend to go with the Owner's benefit or also know as the "seller's discretionary cash flow method." This value is determined by adding the owner's salary, perks, net income (on the tax return), depreciation, and interest expense before adding a multiple. Full-service restaurants are usually figured at 2-3 times the annual owner's benefit. Self-service restaurants are usually figured at 1-2 times the annual owner's benefit. You also consider the hours of operation, when buying a restaurant and determining the value. A restaurant making a 100k a year that is open 4 hours a day five days a week is a great investment. It's certainly better than a restaurant making the same being open 7 days a week 24 hours a day.
Buying a restaurant with unreported cash income
The industry has shifted as most consumers are using credit cards to pay for their purchases. Often there is also unreported cash income in a lot of restaurants for sale. These are added benefits that carry forward but need to be examined and verified as possible. This is a general overview of the issues that you will need to address when buying a restaurant. If you are considering buying a restaurant business contact us for a free consultation on the obstacles to avoid.