Franchise Request
* required field
About Budget Blinds
---
Liquid Capital: $60,000
Net Worth Requirement: $90,000
Franchise Fees: $19,950
Royalty: No Data
Training and Support: Available
Home Office: Orange, CA
CEO: Harold Barrett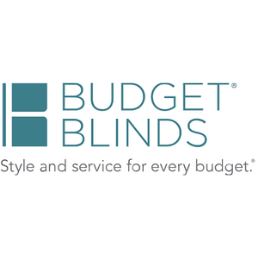 ---
Investement Range $140,500 - $211,750
---
About Budget Blinds Franchise
Are you ready to make your entrepreneurial vision a reality with the #1 window coverings franchise in North America? Now's the time! Budget Blinds is a custom window covering franchise business that offers convenient shop-at-home service for window coverings and home décor accessories. Getting started now by exploring our award-winning home service brand will help you decide on a journey to owning a successful franchise business that can provide lucrative earning potential, family business benefits, a flexible work schedule, and greater overall career security.
We want to partner with motivated individuals like you to make your dreams of owning your own business a reality. Let's Get Started
Budget Blinds Partners with Extreme Makeover: Home Edition
Extreme Makeover: Home Edition previously aired for nine years (2003-2012) and quickly grew to become a beloved household favorite among viewers. Now the most transformative, inspirational, and aspirational show ever is back on television with 10 new episodes on HGTV featuring Modern Family star, Jesse Tyler Ferguson, as the new host. The series highlights families that encourage positive change by giving back to their communities and the volunteers they've inspired to transform their home in seven days.
The Opportunity Is Yours
The proof is in the numbers as Budget Blinds franchisees have continued to see strong sales and profit margins in addition to industry-leading closing rates.
Make Your Vision Reality
Our low cost of entry and ease of start-up means you can quickly be on your way to being a successful local business owner. See our investment section for more details.
Consistently Ranked #1
As the #1 provider of window coverings in North America, Budget Blinds is a widely recognized brand and proven franchise business model for over 25+ years. The advantages that make us one of the top home-based franchises include an award-winning business model, a large network of successful franchisees, our large base of Alliance vendors, and a dedicated team at Budget Blinds Home Office to provide you the support and tools for success. We've been honored to receive a number of prestigious accolades by franchise networks and by the home improvement industry.
Why Choose Budget Blinds?
At Budget Blinds, we are fully committed to providing our franchisees with the products, quality training, and support they need for a successful franchise. Capitalize on our powerful brand name with national recognition, our amazing network of vendors, and our marketing power to realize your dreams of owning a business franchise that is tailored for you. See why we are the leader in creating opportunities that last a lifetime.
#1 in Custom Window Coverings
With over 1,100 territories, Budget Blinds is the #1 provider of custom window coverings in North America. Our depth and breadth of product offerings span multiple categories from more traditional window coverings like blinds, shutters, and shades to our exclusive collection of designer drapes and shades to rugs, pillows, and bedding. We also provide home automation solutions for window coverings as well as smart lighting and more! In addition, our strong commercial business model through our BB Commercial Solutions® (BBCS) provides opportunity for creating additional revenue streams.
Strong Growth & Proven Systems
For more than 25 years, Budget Blinds has continued to deliver strong growth while continuously optimizing our business model and aligning ourselves further with consumer needs and industry trends to provide the best products, pricing, and support for our franchisees. Our vision is to continue our #1 ranking as the largest customer window coverings provider in North America while supporting our franchisees to be as successful as they want to be.
Industry Leading Training & Support
We've got you covered….and then some. Our expert training staff provides highly personalized and informative training from immersive product knowledge and sales to comprehensive local area marketing programs and installation support. You'll have the peace of mind that you'll receive everything you need to know to run a successful business.
Be A Part of a Leading Home Services Organization
At Home Franchise Concepts, the parent company of Budget Blinds, we are home to several of the leading growing brands in the home services industry. In addition to Budget Blinds, our sister companies include Tailored Living focused on whole-home organization solutions, Concrete Craft that provides decorative concrete overlays to beautify any surface inside or outside the home, and AdvantaClean offers professional services that include water removal, mold eradication and moisture control for a healthier environment. For over 25 years, Home Franchise Concepts is passionate about providing an opportunity for people from all walks of life and backgrounds to own their own business and own their lives.
Best in Class Leadership
Our Leadership Team at the Home Office is dedicated to helping franchisees be as successful as they want to be to live their dreams and own their own life. With extensive experience in franchise leadership, our focus is to continue to provide the leadership, training, and support to all of our franchisees while embracing and delivering on our core values of Caring, Commitment, Collaboration, Trust and Transparency.
Why Become A Budget Blinds Franchisee
Are you ready to be your own boss? To choose your own schedule? But still, want the backing and support of an industry-leading organization with over 25 years in the franchise business? At Budget Blinds, we help provide financial freedom and work/life balance with our low-cost, home-based business model.
Your Ideal Partner…Our Ideal Candidate.
We've been perfecting our low-cost, home-based business model for over 25 years. Our success is based on attracting quality, driven individuals like you, who have an entrepreneurial spirit and a passion for personalized customer service. If you possess these attributes and are eager to learn about owning your own business, we'll empower you with all the tools and support you need to run a successful business.
We Empower You For Success
Budget Blinds offers a superb training package and access to expert support teams that will help you every step of the way. Our success is based on your success.
Get More Information
Isn't it time to start living your dream? There has never been a better time to join the Budget Blinds family!
Ready to learn more? -

Contact Us