Franchise Request
* required field
About College Hunks Hauling Junk & Moving
---
Liquid Capital: $50,000
Net Worth Requirement: $200,000
Franchise Fees: $40,000
Royalty: 7%
Training and Support: Available
Home Office: Tampa, FL
CEO: Omar Soliman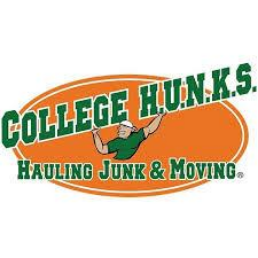 ---
Investement Range $108,700 - $273,200
---
About College Hunks Hauling Junk & Moving Franchise
The College HUNKS® Story
From a Small Operation to Various College HUNKS® Franchise Opportunities
College HUNKS Hauling Junk & Moving® was born in the summer of 2003 when 21-year-old Omar Soliman spotted an opportunity to earn a little extra money to spend during summer break. His mom owned a furniture store in the Washington, D.C. suburbs, and Omar had noticed that during deliveries, customers would often ask if they could haul away the old furniture. They were willing to pay $50 or more for the service. Recognizing this need, Omar asked his mom if he could borrow her beat-up old cargo van and use it to offer junk-hauling. Later that night, he sat down with his best friend since high school, Nick Friedman, and started coming up with names for the business. Omar tossed out "College HUNKS Hauling Junk," and they shared a good laugh. Then they thought about it for a minute. You know, that's actually a pretty good name!
Omar used his computer to create some fliers, and the next day he started putting them up in the neighborhood. That evening, his phone started to ring, and they scheduled jobs from Day 1. Their business took off. Without experience or much of a plan, they made more than $8,000 that summer. The taste of entrepreneurship was exhilarating, but Nick and Omar weren't yet thinking about this as a career. They had always been told to study hard, do well in school and get a nice job working for someone else.
Our Services
Stress-Relieving Solutions for Your Community
Moving is said to be the third most stressful time in someone's life. College HUNKS Hauling Junk & Moving® is committed to changing that by creating fun, worry-free moving experiences for homeowners and business owners nationwide. Offering junk removal services provides additional emotional relief for customers during this hectic time in their lives.
As a franchise owner, you will train your team to do it all — bring supplies, sort, pack, load, transport, unload, unpack, and arrange your things. From start to finish, your customers will greatly appreciate you handling their entire move with precision and kindness.
Our environmentally responsible approach to junk removal and recycling is guaranteed to have the answer to all of your junk removal needs, no matter how large or small. Your team of experts will have the training and your leadership skills to take all non-hazardous items off your customers' hands and properly dispose of them.
Our Detailed Marketing Plan
College HUNKS® franchise owners receive a tried and tested detailed Marketing Gameplan backed by data. We show franchise owners how to find customers, how to make it easy for customers to find you, the most effective ways to network with people who can refer business your way, and ways to build the brand further in your market.
We also provide budget projections that give you an idea of what it might take to effectively market your business, broken down into different categories. For instance, to find customers, we recommend a mix of:
Search Advertising, Online Directories, Paid Leads

Guerrilla Marketing, Print Ads, Media Exposure

PR, Social Media, Client Loyalty, Charitable Services

Community Groups, Industry Groups
Each of those categories of "find your customer" marketing techniques are further broken down into smaller categories. For instance, we have six specific suggestions for guerrilla marketing, and each of those six has a recommended budget, tips for the best way to use the technique, and a projected ROI. We consult with our franchise owners on their marketing budget just like a financial advisor consults on a stock portfolio.
The College HUNKS® Franchise Call Center
The Sales Loyalty Center is more than simply a call center. College HUNKS® franchise owners don't have to worry about fielding a constant stream of calls from potential customers seeking estimates. As a franchise owner, you won't have to worry about missing a potential job because you were serving a customer or your employees weren't available to take a call. The College HUNKS® Sales and Loyalty Center fields calls from customers nationwide, seven days a week, and schedules jobs for junk removal and moving franchise partners.
Here are some of the advantages:
Professional customer service: Our Sales and Loyalty Center is overseen by call center pros with decades of telephone sales experience. They coach our customer service representatives on how to build rapport with customers, explain the College HUNKS® value, and book jobs on behalf of our franchise partners. Our rates far exceed industry norms. When a customer calls 1-800-JUNK-USA, we immediately determine the College HUNKS® franchise partner's territory based on where they are located, access the schedule for that franchise, then book the job. You don't have to worry about sales — we handle it for you.

Call Center saves money and time for franchise partners: Thanks to our call center, franchise owners don't have to staff the phones on their own. When you are first starting, that means you don't have to worry about missing calls when you are helping on a job or are out marketing your business in the community. It also means you don't have to worry about hiring someone to answer calls for you. The Sales and Loyalty Center is staffed seven days a week to book jobs for franchise partners. The center saves you time and money by eliminating the need to staff phones at your business and hire and train a customer service representative. That allows you to focus your energy on other avenues for growth.

Building a national brand: Our call center also makes our marketing more effective. All our trucks are emblazoned with our number. The trucks are hard to miss, and the phone number is easy to remember. The phone number sticks in your brain, so when a customer is ready to hire a mover or a junk removal company and they see your truck drive past, they'll remember who to call.
Our Award-Winning Website
College HUNKS Hauling Junk & Moving® also has an award-winning website that is easy for customers to find when they search for our services online — and it keeps getting better. Search engine traffic — the result of customers searching for moving or junk-removal services — has increased significantly, as has the number of jobs booked online.
College Hunks Consumer website
This is a big, big deal, because a website that is easy to find online is the key to connecting to customers who want your service but might not be familiar with your company. When you're starting your business, it's a huge advantage, because customers will want to learn more about you, and they will discover a treasure trove.
How Our Services Set Us Apart
The College HUNKS® brand and our award-winning marketing get us noticed, but our systems and service are why customers recommend friends and family to our junk-hauling franchises and moving franchises.
We give franchise owners the tools they need to succeed and to set their employees up for success. Our franchises attract a completely different caliber of employee than a typical "moving guy."
One of the most important things our franchise partners learn is the importance of offering "WOW" service, which means doing things that make customers eager to hire you and share their positive stories. College HUNKS® franchises are not the cheapest option in town — we are the best option, and our stress-free service is why customers are happy to pay a little more. Additionally, we make it easy for them to provide feedback, and that feedback will help you grow your business.
Donating
College Hunks donating tires At College HUNKS Hauling Junk & Moving®, we realize one of the most difficult aspects of getting rid of old or used items is parting with the memories that go along with them. Our team helps to ease this experience for customers by donating them upon request. Customers feel more relief knowing their unwanted belongings will find new homes and bring comfort to someone else in need.
Recent studies also show that the average consumer is more willing to pay a little more for eco-friendly services. Because our brand donates and recycles 70% of everything we haul, customers may look up to you as their environmentally conscious junk removal team of choice.
Goodwill and Habitat for Humanity Restore are just a couple of our favorite charity partners to work with. Your team can provide home donation pickup services as well as tax-deductible office donation pickups.
Effortless Entrepreneur
Business Leaders Review "Effortless Entrepreneur"
Effortless EntrepreneurAn entrepreneurial culture is baked into everything we do at College HUNKS®. One of the secrets to our success is the fact that we don't hire "junk haulers" or "movers" — we hire leaders. Our systems are designed to help great young people take on growing levels of responsibility and learn how to be professionals. Ultimately, we would love to see our crew members become managers, franchise owners, or even entrepreneurs in their chosen field.
Co-founders & visionaries Omar Soliman and Nick Friedman are so committed to helping more people become entrepreneurs that they wrote a book, Effortless Entrepreneur: Work Smart, Play Hard, Make Millions to demystify the process of starting a business — even a fast-growing multi-million dollar business like College HUNKS®.
College HUNKS® Franchise Ownership FAQs
Answering Common Questions about Our Junk-Hauling & Moving Business Opportunities
What are College HUNKS Hauling Junk and College HUNKS Moving®?
College HUNKS Hauling Junk® and College HUNKS Moving® are two of the fastest-growing franchises in the United States, which can be run independently or together. The businesses are using award-winning branding and proven business systems to revolutionize the multi-billion dollar moving and junk-hauling industries.
Do I have to be in college? Do I have to be a hunk? Do I have to drive a truck or move stuff?
No! Our employees do the heavy lifting. Our franchise owners are simply the executive coaches on the sidelines. Your employees will be mostly college students. In our books, HUNKS are defined as honest, uniformed, nice, knowledgeable, service professionals. Our franchise owners are of various ages and backgrounds.
Do you do lots of work on college campuses?
Actually, most of our clients are homeowners and businesses. We do our employee recruiting on college campuses, but the clients are typically upper-middle-class homeowners and/or commercial clients such as property managers, real estate agents, contractors, and storage facility managers.
Ready to learn more? -

Contact Us